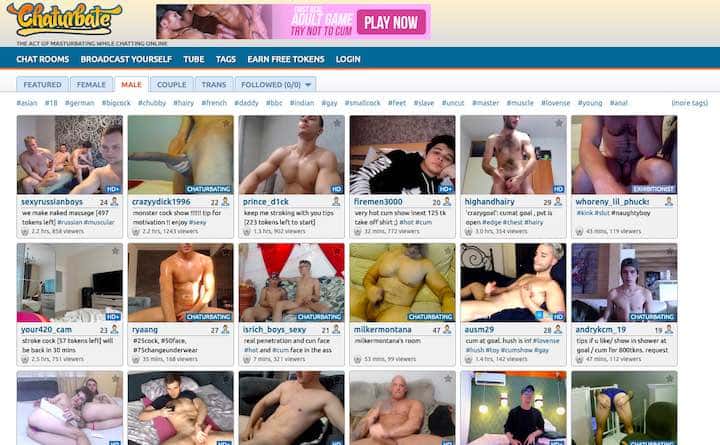 When it comes to some of the most well-known gay cam sites on the planet, the male section of Chaturbate.com is a place that usually comes up almost immediately so it is going to be the first reviewed page on here.
My Rating
Content

Price

Features

Number & Variety Of Models

Ease of Navigation
Summary
I visit the CB every single night and it is a one of my favorite places to rub one out. They have got the biggest list of amateur live male shows and the best thing about it is that you can interact with performers and watch them for free without restrictions, you just need to create an account and you do not have to give them your credit card details. You still need to buy tokens if you want to have a private fun but you can get a ton of action there for no money at all. With all that being said, Chaturbate is a website that you simply have to visit if you are looking for gay webcams on the web.
And it is no surprise as to why as you have always got thousands of live gay cams on here who are ready to bring you pleasure every step of the way.
While the section is called Male and not Gay, you do not have to think twice when selecting a cam on here since they are almost always exclusively gay in that regard. It all comes down to which male cam you want to view the most.
Some cams on here have well over a thousand viewers at a time, and the most popular ones can get the numbers in the several thousands when they are online.
The first page of the male section is where you will find the most premium cams which are really high-quality and have a lot to offer in that regard.
However, when you look at the rest of the pages, you will notice that the number of viewers goes down significantly as does the quality of the cams. This is not necessarily a bad thing, but it is indicative of the type of content that you will see on Chaturbate.com.
Amateur Content Means Authentic Content
This site deals mostly with amateur cams, so you can expect dudes who are in their bedroom just turning on their webcam and having some fun while trying to earn a few bucks in the process.
The most popular cams have gone away from the amateur style and have embraced the premium and exclusive feel that they bring to their viewers.
Still, even these cams can not be compared to some more premium sites out there. Ultimately, Chaturbate.com is an amateur site and that means that you will be seeing real gay guys behind their cameras as they are having fun.
In a way, getting this kind of authentic content is what most of these gay cam sites are all about, however, Chaturbate.com knows how to deliver in that regard.
It would seem that when a dude first gets the idea to cam for other guys and put on a gay show, that they usually think of Chaturbate.com as the first venue that they will visit to perform on.
With that in mind, it is no wonder that Chaturbate.com boasts one of the biggest selections of amateur and homemade cams that you are going to adore if you are a fan of genuine content with actual people performing for you without any filters or studio shenanigans.
Many Dudes Are Chubby, Hairy Or Hunky With A Few Pornstars In The Mix
When you start browsing through the pages upon pages of Chaturbate.com there will be more than a thousand cams online at any time. At the peak hours, you might even get the numbers to go past two or three thousand cams.
That is a lot of gay dudes turning on their cams on this site and getting ready to have fun.
Of course, many of these dudes look really average and sort of chubby and hairy and there is also a lot of beefy hunks.
This will not be a hindrance if you are into that kind of stuff, but if you are looking to watch your favorite pornstars live, then there will only be a handful of those guys to choose from.
Even with all that in mind, it would still make sense for you to check this place out.
Chaturbate.com has plenty of features that are going to make your stay a lot better. This means that you will be able to get to the cams you want to watch in a quick and easy way.
All you will really have to do is search through the repository by using the Advanced search function or even just by clicking on the various tags that are going to be listed out at the top of the page right underneath the navigation bar and right above all the cam thumbnails.
The User Interface Gives You All The Necessary Information
Also, though it has not gone through many iterations over the years, Chaturbate.com still looks like a pretty modern website which has all of the necessary graphical elements that you are going to find more than just useful on here.
All of the thumbnails have necessary information for you to make an informed decision about which gay cam you are willing to watch at this point in time.
This will definitely help you out when searching for the perfect dude to jerk off to.
You can filter through the cameras by using either the tag system of the filters which you can find at the bottom of the page.
There is an option to choose between different age groups. There is the teen group which is 18 years and over.
Then, weirdly, there is the 18-21 age group which you'd think includes the teen group as well. Then there is the 20-30 age group and the 30-50 age group.
Finally, the mature 50+ age group is also available if you value experience in these cam guys above all else. You will love these cams if you do.
Choose Between Different Age Groups, Regions, And Even Prices For Private Shows
You can even choose between the region of the cams, the type of cam, and even the price per minute of private cam shows.
If you are looking for a cam show with a specific status on Chaturbate.com then you can choose between the Exhibitionist cams, HD cams, Private cams, Group cams, and New cams which can be pretty interesting if you get off to seeing new meat perform on this website.
When it comes to the pricing of the private shows per minute, the price goes from 6 tokens a minute, all the way up to 90 tokens a minute.
All in all, if you are looking for a good time with gay cams, then Chaturbate.com will be the perfect venue for you.
It is not like you will find any other site which has over a thousand cams for you to choose from at any point in time.
Not only that but genuine and authentic cams which are not prerecorded garbage.
If you are into amateur gay cams, then get ready for the time of your life with the absolutely stunning and amazing Chaturbate.com. Go through all the pages and find your perfect gay cam fit on here.