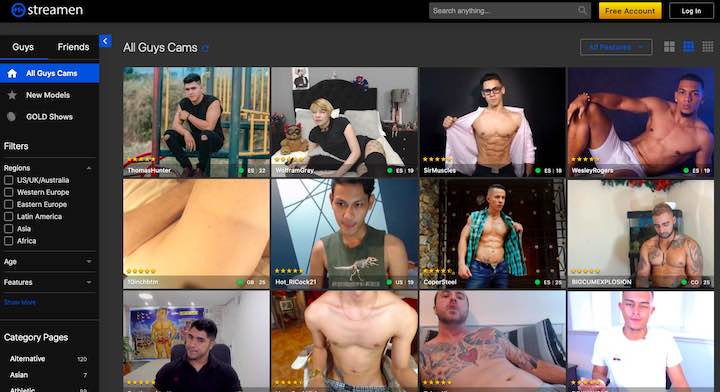 For those of you who like gay cams but also have a standard when it comes to the quality of cam shows, there is a solution out there.
It goes by the name of Streamen.com and it is the best place to find premium gay cam videos that you will absolutely enjoy.
My Rating
Content

Price

Features

Number & Variety Of Models

Ease of Navigation
Summary
If you prefer having a private live sex with models than just watching them with thousands of other men in public chat rooms, then you have to check out this gay cam site that I am going to review below. Streamen is the popular gay version of the Streamate and they have got the most skilled performers that are trained to give you the best pleasure possible but you have to spend money there if you want to have fun. However, you will not be disappointed when you do this because it is the best premium webcam site that I have ever visited.
If you do not believe that you will enjoy yourself with the cams on Streamen, then you should probably just got ahead and check out this place as a user who is looking to have some fun with all the gay cams no matter what they are like. That is when you will really see the power of Streamen.
You see, the best thing about Streamen is the fact that they have a standard. Not anyone can just create a gay cam on here and start streaming.
They have to tick all of the necessary requirements and this usually also means that you will find more premium cams on this website than on any other site.
If you are into gay cams then you are definitely going to be more than happy about this fact. The sole reason for you to come on Streamen is to find premium cams that you would not be able to find anywhere else on the internet.
Gold Cams Are Premium Cams, But There Are Plenty Of Free Ones Too
You see, it is not all about quality when it comes to the cams. Sure, you can go for the HD cams as it is definitely one of the filters that you can choose to sort the shows by, but there is something even more important.
There are Gold shows on Streamen which are only for Fold members. Sure, you have to pay for this service, but in return, you will have some of the best content that you will ever see when it comes to gay cams online.
But if you do not want to pay for this content, then you are free to watch the free cams instead.
It is not like these are much worse than the Gold cams. It is just that those ones take things just one step further to ensure that you're going to have the best time on the platform and that you wil be coming back for more sometime soon.
If you are a gay dude, then you probably have a very big libido. This means that Streamen was always looking for gay cams to put on their website since they know what a demand there is for these dudes out there. Luckily there are so many guys who are ready to step on the line to perform for other guys.
Fewer Cams, But They Are Real Pleasure-Bombs
They earn a lot of money and pleasure from it, you earn a lot of pleasure as well but end up spending some money most probably, but at the end of the day, everyone walks away from the agreement by winning something, whether that something is money or pleasure.
Some might say that pleasure is way more important, and if you agree with this statement, then you are sure as hell going to feel right at home with this website. Streamen has some of the best premium gay cam sites on the market.
This, in turn, might also mean that you are going to notice that this place far fewer cams than some of the more readily available places out there. The number of cams on Streamen live at any time, when we are specifically talking about gay cams, is usually in the hundreds.
More usually it's just over a hundred, but at peak hours the number can skyrocket into the several hundreds of gay cams. Of course, it is on you to decide when you will be visiting Streamen for some premium gay cam content.
Just Enough Cams For Every Preference
You do not have to be on here at peak hours just to have a bigger selection of cameras. In fact, the number of cams that you have on Streamen works just fine if you know what you are looking for.
The most important thing is that you get premium cams as opposed to some kind of garbage quality cam shows that you would be facing on other websites.
This creates for a much better user experience, and that is something that Streamen puts in the first place when trying to get new people to come to the website and make old people stay for more content going forward. You will notice that too when you create your account.
You need to make an account on Streamen to view any of the cams, by the way, and if you do not register then you are barred away from seeing any cams.
If you try to click on any cam without being logged into your account, you will usually be met with some kind of pop-up ad instead.
That sucks, but at the same time, you can expect this from any cam site, especially if they specialize In free cams. Ads are just a way for both the site and the cam show performers on it to earn some money.
If You Want To Go One-On-One With A Dude, Check Out The Private Cams
But there is one more way in which the dudes on Streamen can earn money. It has to do with private cams and you can always have a great private session with any dude on here if you have enough to pay him.
If not, you can just join all other people in watching the performers as they are just having their way on the platform. To make things more immersive and personalized for you, you can even choose the chat language.
Most of the cams are in English but there are also gay cams in Spanish, German as well as many other languages as well.
At the end of the day, the only thing left for you to realize is that you have all of these tags on the left-hand side of the site that you can choose to create a more personalized and immersive experience on this website.
The genres go from the vanilla ones that you would expect such as blowjob and anal, to some more obscure genres that you will not be able to find with many cams. If you are into premium gay cams and you like both obscure and vanilla genres, then check out Streamen right now!