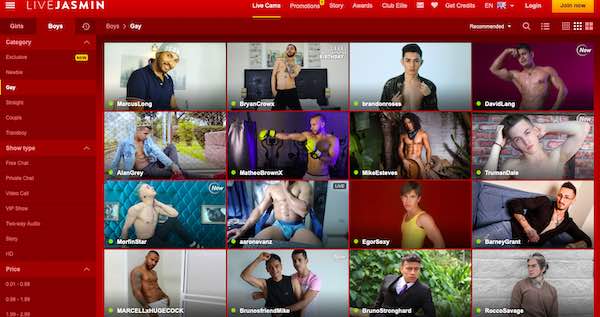 First Impressions
From the moment LiveJasmin Gay landing page opens before your eyes, you can see that the interface is very well organized and user friendly. Pallets of adorable, masculine, attractive gay men under one roof. On the left side, you can choose and filter your favourite things you are looking for on LiveJasmin Gay.
For everyone that is a bit picky, you can choose the age of your model, ethnicity, appearance, hair colour and much more (more on that in the categories section).
Content
LiveJasmin Gay site is a standard webcam site where you can take a peek inside every model panel they are offering. This feature is completely free and for a certain amount of time, you can see what is happening in the interaction between users and models.
After a couple of minutes, you will need to register and add credits if you wish to proceed with private chats and normal viewing of the extravaganza.
In the private chats, is where the magic is happening, since you can command your models to do whatever you wish for. All the models are very good looking and they are using high resolution crystal clear cameras so you can see every single detail on them.
There are different types of private chats so it can be really fun from time to time to choose what type of show features you are looking for. From one-to-one, to two-way chats via audio or webcam, or you can go straight to VIP chat.
Categories
Numerous filters on the website give you a variety of options from which you can choose and pick your dream gay boy to play with. They are simple but effective filters which make LiveJasmin Gay so easy to use and scroll through.
LiveJasmin Gay offers filtering by ethnicity, pricing and rate, age, appearance, hair colour and what models are willing to do in private chats. Although, they are no big-name models on the platform, like some major websites have, LiveJasmin has tons of male models that look like they are from a successful underwear commercial, and they are waiting to please every fetish that you can think of.
Conclusion
LiveJasmin Gay has been in the porn industry from 2008 and they now have over 35 millions of users with over 20.000 total webcam models.
It is no surprise to me that they have such a big family since they have set the bar for quality, quantity and timeliness of work (kudos for that). Because of this, LiveJasmin Gay is not for every pocket, to be honest, and quite often you can find your credit card quickly drained if you are not careful about your time spent in the chat rooms.
Time is money, as they say, and time on LiveJasmin Gay is pretty expensive. There are a lot of alternative websites and a lot of free chat rooms where you can enjoy a free wank or two, and if you are reading this with $0 in your bank account, it is time for you to Google them, honey.