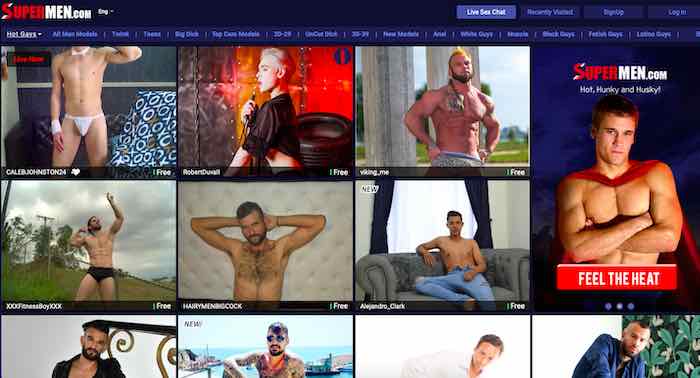 First Impressions
Today we are going to review a gay cam site named Supermen.com. What a great name for an adult gay website! The name should speak for itself, but it does not.
Great content, affordable private rooms where you can chat with your model, and super easy navigation through the website are all missing.
The only good thing about this website are the sizzling hot male models who are trying their best to earn that hard working dollar. What were the creators thinking?
Why is this website so complicated to use? Let's dive into it and give an honest feedback.
Content
Like any other webcam site on the internet today, Supermen.com also has their male models on the front of their landing page.
From the moment the website loads, you can scroll down and start looking for your favourite cutie who is chatting live. If you want to be super picky, and maybe filter your favourite things that you are looking for on these models, you are in for a big surprise.
On the top of the page, there is no standard filter on the left that will let you choose those things. But why is that? Every big website (including Chaturbate gay review) has that. Instead, you will see a lot of options to choose from and they are just basically piled next to each other.
For instance, age and ethnicity of models should be separated from one another, but they are not. You will have to look hard to find a valuable selection that will give you all the things that you are looking for in a gay man.
Eventually, you will find those selections but they are on the right side and for the untrained eye, it can be very hard to find. When you find a model with whom you want to interact and start a private chat, you will see that the webcam video has limited options.
There is nothing to choose from and you can only start a private chat with your model. Standard video on the left has a bio of the model, snapshot, gallery, surprise present etc. These are little things that could make a big difference when a user is looking for them so he can fully enjoy his hot chat. At least the quality of live videos is excellent and the clear image is satisfying for your eye.
Categories
It really pains me to see how someone can make it so complicated to find a specific thing that you are looking for. New models, white, black, age, fetish, Latino, teens, big dick – a complicated variety of all the things that could have been separated and better organised.
The filter on the right can give you a standard selection of hair colour, age of model, ethnicity etc. Why they did not do this with all other options is beyond me. There are no big name models on Supermen.com but the content speaks for itself and I can honestly say that the models are very creative and offering first class content.
Conclusion
Supermen.com has all the potential to be a great gay website. They have models, they have a unique name, but they are lacking in creativity.
Even the pricing is not offering anything good that could say they made it cheap for their users. They have the 15 credits bonus when you sign up, but you will get it after you made your first deposit and purchase.
It should be the other way around. Maybe in the near future there is a possibility for Supermen.com to be one the greatest adult websites on the internet, but first they must redesign and make it more user friendly.
We recommend you to check out our other gay cam reviews and discover better alternatives.