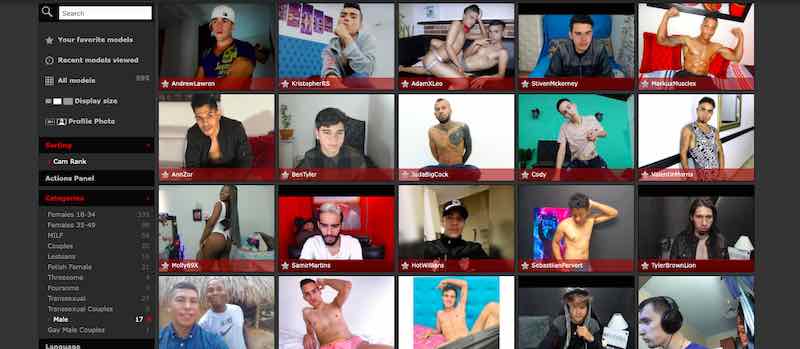 I have heard quite a lot about XLoveCam but I never really spent much time on their gay webcam site named XLoveGay for various reasons. Today I decided to finally check them out for a bit longer than before and I am more than glad to share my review with you.
XLoveGay First Impressions
When I have arrived on XLoveGay, I was felt a bit lost and confused because I have been shown only girls (a nightmare for a gay man, lol) and I could find the link to the male section in their menu.
After looking around, I found the gay cams that were hidden under the category tab in the sidebar that is very unnoticeable.
I think that they should have made it more visible like on other websites that I have already reviewed.
Besides what I have already said, you can say that XLoveCams is well organized and there are not any distributing advertisements or sign up pop ups which I can count as an advantage.
I was able to open an account after just giving them a nickname, a password and an email address and I received a free VIP video of my choice, a small bonus that I appreciate.
Very Few Gay Cams
When I was there, there were only 11 gay cams under the male category whereas there were exactly 498 female live rooms which is a huge disproportion.
Most of the hosts come from the Western Europe, predominantly from the France and Spain and some speak good English and some use online translators to converse with their clients.
Plus, there are only a few categories (hair color, age, language and ethnic group) to choose from and it is not much helpful since XLoveGay.com has got a very limited number of male models.
No Free Action
While you can chat with gay performers on there, you will not see much of a free live action so you will need to purchase credits for money and spend them if you want to have a great cam experience.
That being said, you are not going to see models jerk off, play with their butts or even pose naked for you in the public chat room.
Verdict
Sadly, if you want to see quality live gay shows, XLoveGay is not the webcam site that will satisfy your needs.
However, there are better alternatives that will give you are looking for and you just need to check out our other reviews on the MGCR.